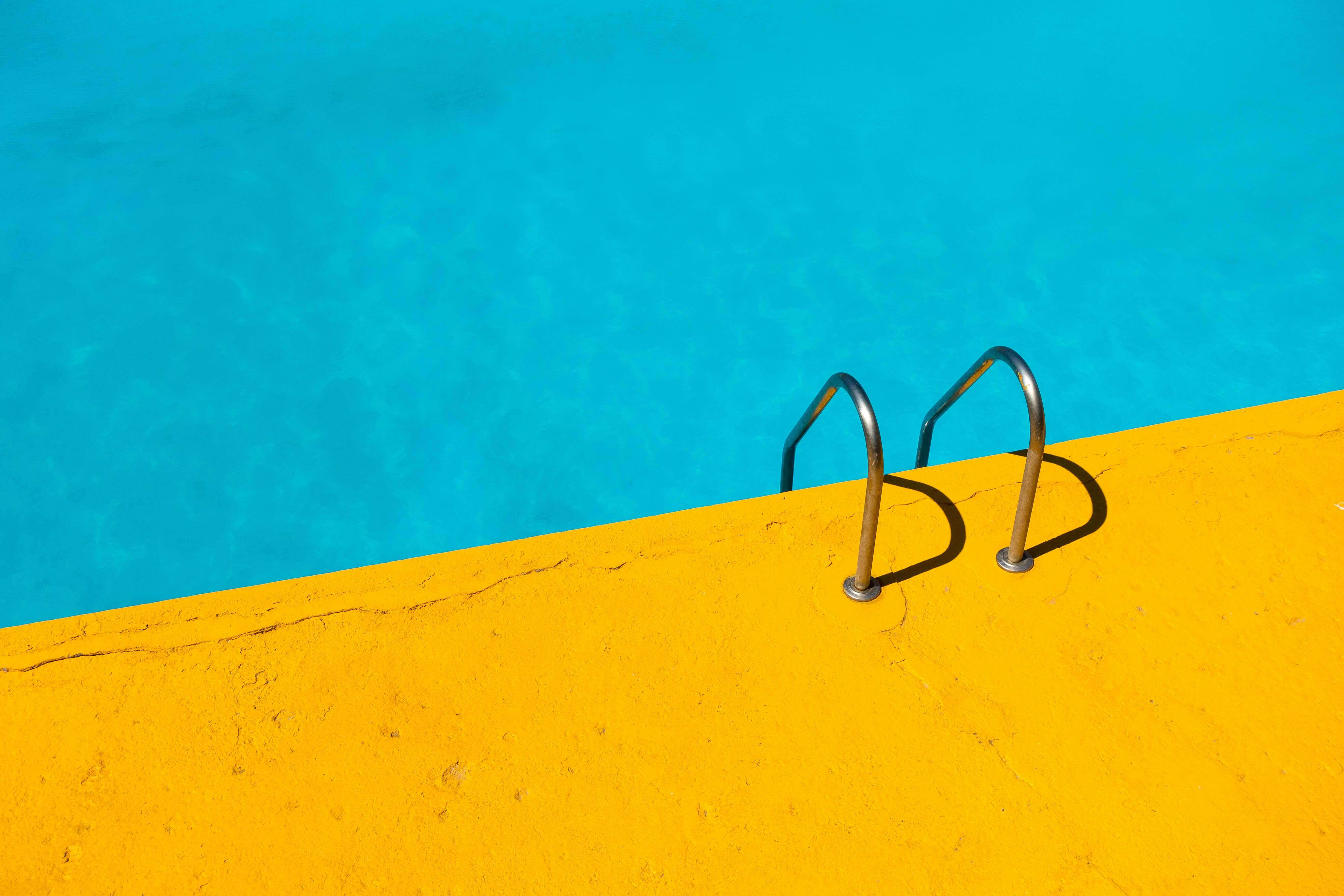 ☀️🏊🏻 A Nurse's "Guide" to Escaping the Summer Heat ⛱️🍹
The summer is beginning to heat up in New York, where the NursingCE office is located, we've noticed that the summer went from a moderate and enjoyable 75°F to an overbearing and humid 90°F. Everyday, walking to work is an oppressive chore, and by the time I arrive, I am rather sticky and sweaty even though the day has just begun, which got me thinking: is it possible to escape this awful heat? It seems unimaginable what the conditions of hotter states like Florida, Arizona, Texas, California, and more are like, especially for nurses, who have to wear stiff scrubs to work.
Because of this, we've decided to do all that we can to help nurses escape this heat! To begin, here is a compilation of six great tips to stay cool. (Stay tuned for #6, which is something really special, especially because #5 is probably not feasible.)
1. Wear Short Sleeve Scrubs Made Out of Breathable Material 👚

Most scrubs have short sleeve tops, but this point should be emphasized because the hospital can be cold during the summer, so it's important to wear a breathable top for your commute to work and after work. (You should bring a jacket with you, though, to wear while working in case it gets too cold.) Wearing a top like this, will help keep you cool. Anything that is long sleeve like this, would not be great if you're trying to beat the heat.
2. Eat More Ice Cream 🍨
What's better to eat on a hot day than ice cream? Practically nothing! Besides the fact that taking the ice cream outside will make it melt instantly, this cold dessert is just what you need to keep your insides chill 😎. We recommend sticking to fruitier flavors like lemon, strawberry, raspberry, and so on because sometimes, the sweetness of something like hazelnut gelato can make you feel sticky and heavy due to the creaminess of the dessert combined with the heat of the day. Other cool foods you can eat to make sure your insides don't overheat include sushi, salad, and poke bowls. You'd be crazy to drink a hot bowl of chicken noodle soup when it's 100°F, but if you're into that kind of thing, you do you. Protection, then, starts from within, even from the heat!
3. Go to the Beach and Catch a Wave 🏖️
How about leaving your scrubs at home and picking up a swimsuit for a day? Though this is mainly an option for those who live by the shore, if you have a weekend or a couple of days off, some of you can make the trek to a beautiful beach. Beaches are great; you can lie there and tan, soak in the sun, play in the salty waves, go surfing, read a book, and more. The climate around beaches is never too hot because the ocean is a large body of water that keeps the land temperate, so if you go to the beach, you're bound to find a great escape from overbearing heat, whether that's through the sea water itself or having refreshing drinks like piña coladas. (If you don't have a beach, you can always head to a pool; this option has its pros and cons compared to the beach.)
4. Have a Water Balloon or Water Gun Fight with (Fellow Nurses) 🔫
Ever miss your childhood years and want to let loose? A fun way to do that would be by having a water balloon or water gun fight! You can do it with your family or friends outside of work, but we recommend having a party with your nursing friends because you all need it and deserve it. The initial investment cost of buying water guns or balloons (and spending time to fill them up) may be a hassle, but we promise that it's worth it. Keeping cool under the sun while also seeing some of your friends run from you in fear 🤔? That sounds like a pretty sick deal! (Just be sure that you're ahead of the others if you don't want to be the one running around for your life.)
5. If You Have Time, Travel Somewhere Cold ☃️
The entire southern hemisphere is experiencing winter right now and what better way to escape the heat than to fly away from it entirely and land yourself in a continent where it's snowing or has temperatures that are, on average, below 78°F? Some places you can consider are the southern half of Australia, South Africa, and the mountains of Chile. If that's too far, Vancouver is pretty temperate all year around, so maybe that could be suitable?
6. Save on Your CEs With Our "It's Too Hot!" Sale 🛒
If the summer is too hot, you can always stay inside your home or in your hotel room and put the AC on blast. While sitting inside, you can watch television, read a book, or even get your CEs done! Contrary to what you might think, summertime could be the perfect time to complete some CEs if you work it into your schedule right. Before you know it, you don't have to get more accreditation for two more years; (check out our blog on the benefits of summertime CEs here). Because of this, and the fact that everyone loves sales, the team at NursingCE has put together a little something to help you save on your CEs, and therefore, escape the heat. This last method is a little easier than the previous one, which could be something like traveling to New Zealand because who has time for that? Sorry, New Zealand.
*Use code SOCIAL to save $10 on your CEs*
Most of what has been written so far are just to poke fun, but in all seriousness, it is getting quite warm in most areas in the United States, and it's important to stay protected in the heat! Wear sunscreen, try not to wear too many clothes, drink water, wear hats, stay in the shade, limit the time you expose yourself to the sun, and so on! There are many very real, actual tips that you should know and follow in order to escape or stay safe in the heat. If you can, try to take a short vacation and even though AC can be expensive, you probably deserve it. Buy some fans, eat some ice cream, stay inside to complete your CEs — everything reasonable or feasible that you can do to stay cool if the summer heat is getting oppressively overbearing, and we at NursingCE will do everything we can to help out because we've always got your back! (For example, next summer, some of you are joining Nurse Blake aboard a luxury cruise trip during NurseCon 2020, which will include pools, travelling, islands, drinks, and CEs! Everything we've listed above in our guide to help you beat the heat 😊.)
*excludes single course and bundle purchases.