BS-MSN Programs & the Benefits of Pursuing an ADN Degree in Nursing First
Nursing is one of the few professions that still allow you to begin working with only two years of college education under your belt. Students can earn their Associate Degree in Nursing (ADN), work for a one to two years as a registered nurse, and then get their Bachelor of Science in Nursing (BSN) and Master of Science in Nursing (MSN) through a BSN-MSN bridge program. The ADN to BS-MSN is an advantageous pathway for several reasons.
6 Benefits of the ADN to BS-MSN Pathway
1. You can start working sooner
ADN-prepared nurses start working a full two years earlier than BSN-prepared nurses. All things being equal, saving for an extra two years can have a significant impact on your lifetime income and your financial freedom in retirement.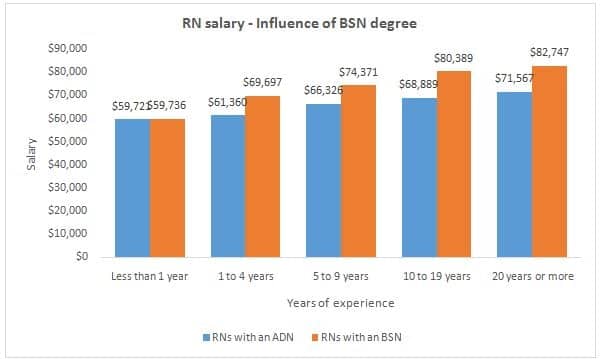 In many cases, there is very little difference between the starting salary of an ADN and BSN nurse. Salaries are typically based on how many years of experience you have, and all new nurses start with less than one. It doesn't matter if you have a two-year degree or a four-year degree.
Using the data in chart mentioned above, we can roughly estimate the total difference in earnings between an ADN- and BSN-prepared nurse over the course of their careers.
The total difference in lifetime earnings between an ADN and BSN nurse over a 20-year career is approximately $80,326—of course this doesn't include raises, etc.
However, the ADN-prepared nurse usually has fewer student loans, which can quickly reduce any difference in total earnings to almost nothing, and this is huge because employers will typically pay for additional nursing education.
2. Employers will pay for your BS-MSN
Not having to pay for your BSN and MSN is another benefit of pursuing an ADN first. Several employers will pay for the cost of any education you obtain while you work for them. Some hospitals even have partnerships with schools to make it easier for you to get a BSN or MSN.
For example, Northwell Health® will pay 100% of Hofstra's tuition for any employee who completes their MBA program and commits to working for Northwell for 24 months. They will also pay $5,000 per calendar year toward tuition expenses for BSN and MSN degrees.
Pursuing a BSN-MSN program part-time at a reasonably priced institution while working means that nurses can get their employer to cover nearly the entire cost of a BSN and MSN, and this is a huge benefit of being able to work with just an ADN—not only can ADN nurses recoup what they would lose by not earning a BSN initially, but they can also avoid the additional debt that BSN nurses take on to pursue an extra two years of education before working.
3. You can explore different areas in nursing before specializing through a BS-MSN bridge
Almost all nurses undertake the conventional year or two of experience before transitioning to a specialty. ADN nurses have the added benefit of being able to work, gain experience, and explore specialties while pursuing a BSN that's likely paid for by their employer.
By the time the ADN-prepared nurse enters their MSN program, they know what they want to specialize in and may even have had experience in that area—an advantage that follows them to the job market when they apply for a master's level position (e.g., nurse practitioner, healthcare administrator, senior nurse, etc.).
4. Online BSN programs are designed for the working nurse
Online, evening, and part-time BSN-MSN programs have saturated the nursing school market. Working nurses don't have to quit their job to pursue higher education. Couple this benefit with the fact that employers will usually pay for educational expenses, and it's entirely possible to retain full-time employment while pursuing BSN and MSN degrees. Of course, many nurses still choose to take time off to go back to school, especially if they want to finish their MSN program in two years.
5. The transition to professional nursing is smoother
It can be challenging for BSN-prepared nurses to accept the fact that the bulk of their coursework during their last two years of nursing school have little to do with the actual daily life of a nurse. Most BSN programs dedicate the final two years of study to theoretical coursework and nursing administration—fields of nursing that don't prepare nurses for day-to-day caregiving. ADN nurses, on the other hand, often have stronger backgrounds in practical nursing, and this makes them better prepared for what they'll experience.
6. You may be able to complete your BSN in fewer classes
Another benefit of pursuing an ADN first is the ability to obtain a BSN in as few as five classes—if you already have a bachelor's degree in another field. After earning their ADN, career changer nurses who gain one to two years of experience, usually in med-surge, can pursue a bridge BSN-MSN program that expedites the BSN part.
Some programs allow such prospective students to skip the ADN entirely and go directly into a BSN-MSN program. For instance, UPennallows those with a non-nursing degree to apply to their BSN-MSN degree program.
However, whereas ADN students will often get their BSN and MSN paid for by their employer, those pursuing direct entry into a BSN-MSN program usually accrue significant student debt that can take years to pay back.
Prospective Nursing Students Need to Weigh Their Options
There are many advantages to pursuing an ADN first. However, students need to be aware of the drawbacks associated with this pathway. For instance, many states are requiring a "bachelor's in 10"— meaning nurses in those states will be required to earn their BSN within ten years of earning their RN through an ADN pathway. However, with employers frequently paying for all or part of the cost of BSN degrees, it's still preferable for many students to pursue an ADN first.