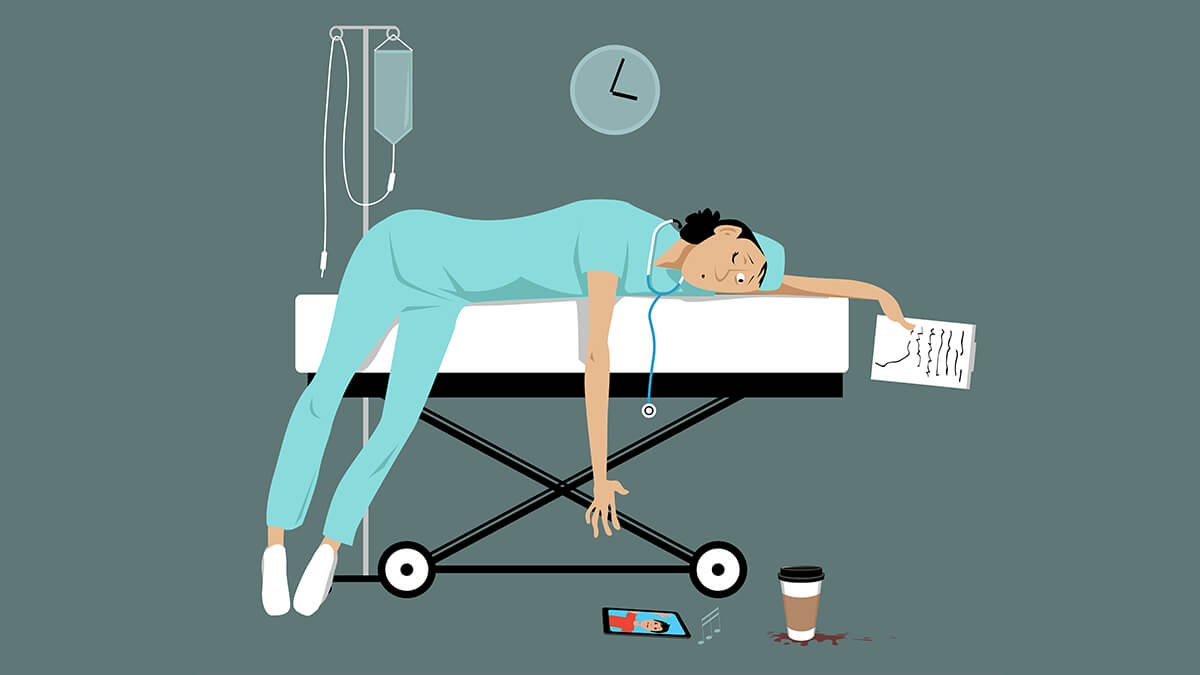 Nurse Burnout - Are Nurses Really Suffering?
Much has been written about physician burnout, but nurse burnout is just as real. Nurses are burned out from electronic medical records and onerous documentation, alarm fatigue and physical exhaustion. Burnout causes cognitive overload that can put both the nurse and the patient at risk. Knowing the signs of burnout, acknowledging them and seeking help is the only way to maintain one's career, as well as one's physical, emotional and mental health.
Burnout is defined as emotional exhaustion, depersonalization, and reduced personal accomplishment. It can result in many different symptoms including, but not limited to:
Chronic fatigue
Loss of interest in job, hobbies
Unexplained illness with no obvious physical cause
Loss of appetite
Anxiety and depression
Feelings of apathy and hopelessness
Lack of feeling of accomplishment
Isolation and detachment
Increased irritability
Decreased job productivity
Nurses are suffering from burnout at increasing rates - as documented by a recent survey of 257 RNs in the United States:
98 percent of hospital nurses said their work is physically and mentally demanding
85 percent noted that their nursing jobs make them fatigued overall
63 percent reported that their work has caused nurse burnout
44 percent worry their patient care will suffer because they are so tired
41 percent have considered changing hospitals during the past year due to burnout
There are numerous causes for nurse burnout including:
Mental and physical exhaustion
A chaotic and unpredictable work environment
Demanding hours and daily workload
Lack of confidence in job achievement
Lack of control over schedule and workload
Lack of social support
An imbalance in work-life priorities
With a national nurse shortage, an aging population and increasing acuity of patients, the stage is set for an increasing rate of nurse burnout. However, institutions can put strategies in place to address the risk before it increases.
Nurse residency programs: As hospitals expand nurse residency programs, it gives new graduates the opportunity to ease into the job. They can familiarize themselves with the hospital and the work environment, thereby easing stress and anxiety.
Higher nurse patient ratios: Hospitals are finding that as they increase nurse patient ratios, they increase nurse health and improve patient outcomes. According to Nursing Licensure, "Higher nurse to patient ratios have been confirmed to not only reduce the risks involved in patient care, but also have had a direct correlation with the well-being of the nurse. This is critical. When a nurse feels less overwhelmed, self-esteem and confidence in the care they are providing is dramatically increased. The patient is going to reap the rewards."
Employee assistance programs: When support is available, anxiety tends to be reduced. Whether it is a debriefing after a traumatic patient event, or helping nurses talk to decompress, employee assistance can provide the front line support that reduces nurse burnout.
Mindfulness and relaxation programs: Some organizations are creating relaxation spaces where nurses can go during the day to relax and unwind. Others are offering mindfulness courses that help to build resilience.
Improving technology: Some healthcare organizations are paying special attention to streamlining technology to improve usability and reduce technology and alarm fatigue.
If you believe that you are experiencing the symptoms of burnout, begin to take care of yourself immediately. If burnout becomes too entrenched it may be extremely difficult to bounce back. It could cost you your career, and your health. Here are some practices that may help to combat burnout:
Acknowledge how you are feeling and the causes of the symptoms. Pay attention to your own personal stressors. Work with counselors, therapists, or advisors to develop healthier ways of responding to the stress triggers.
Practice deep breathing. Before approaching a difficult patient or a stressful care situation, stop and take slow deep breaths. Five to ten breaths will begin to calm you and help you to re-center your thoughts before entering the situation.
Focus on self-care. You may have only a five minute break, or one day off. In those moments, focus only on caring for yourself. Smell the coffee, taste the food, see the sunset. It may only be a moment, but it can reinvigorate you nonetheless.
Try yoga. It has been proven to reduce stress and treat PTSD in veterans. It is an ancient practice with deep, restorative benefits to address anxiety.
If all else fails, consider taking a vacation or a leave of absence. Burnout will take its toll on you for a very long time and may prevent you from continuing as a nurse. Protecting your health and well-being is crucial to your ability to live a long and fulfilling life.